Julija Melnik (Vilnius-Alsace) – Master of Science in Education with 15 years experience in dance pedagogy (from hip-hop dance to argentine tango, from improvisation to sacred dervish dances), teacher of Samara Yoga, instructor of Choreographic Samadeva, Lou Yong Tao Te Qi and Gurdfjieff Dances, constellator by method of Idris Lahore. Since 2006 she has been developing and teaching contact improvisation (CI) in Baltic and in many other countries, including teaching at various CI festivals and conferences, and collaborating with various educational and artistic institutions.
She also explores other forms of improvisation and performance, and her search for movement is informed by practices of meditation, bodywork, dance therapy, Feldenkrais and Rosen method.
Julija studied contact improvisation with CI pioneers – Steve Paxton and Nancy Stark Smith, as well as Nina Martin, Andrew Harwood, Angela Donii, Joerg Hassman, Charlie Morrissey, Adrian Russi and many others. Improvisation and performances she also studied with Julyen Hamilton, Daniel Lepkoff, Nita Little, Alexander Girshon, Keith Hennessy, David Zombrano and others.
Contact for Tango
Straighten up. Listen. Trust. Act.

,,In the duet form, when you attune together, not with any ambition to get the dance started but really taking a moment to just connect <…> there could be a dance of such feathery lightness and such absolute security, absolutely beautiful." – S.Paxton
There are many reasons for not doing what we really want in the dance. We want the tango, don't we? Physical tango of bodies flying around, sensual or emotional tango when passion or pain is the guide, intellectual tango while fighting the thoughts and attention of the other… and what if we could get to the middle of this storm?
I think, that most of contact improvisation dancers are really looking for what Argentine tango dancers look for and call it entrega (in Spanish: to deliver, to surrender, or to abandon). Surrender oneself to the music, or to the partner, or to another force? Maybe both being in the abandon of themselves? Another proposition is given by Miles Tangos: "What can I contribute of myself to make this the best dance ever ?". Yes, how to get there? Tango dancer Alejandra would say: "You need to just be quiet and dance".
Let's discover, what is the best of ourselves that we can contribute to the dance, to make it best, unique and timeless. Let's just be quiet and dance!
---
---
Karl Frost (Germany/California)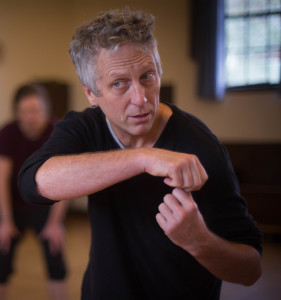 has been practicing, performing, and teaching contact improvisation and interdisciplinary, dance-based performance since the mid 1980's in California. His work has been showcased over the last 3 decades across 5 continents, both in established institutions/universities and in independent studios and theaters. Known internationally for his dynamic movement style and for the edge-pushing nature of his work, physically and psychologically, both in process and performance, his performances take the body and emotionally and physically felt experience as their reference points. He is known for his articulate teaching and the depth of the material that he accessibly offers. He began his movement explorations in martial arts as a teenager, before expanding his studies to contemporary dance, contact improvisation, physical theater and a variety of somatic practices. His performance work, via his company, Body Research Physical Theater, explores postdramatic works rooted in somatic psychology and paratheatrical exploration, alternating between stage productions and highly interactive performance happenings exploring audience agency and personal meaning. A base of his movement practice and teaching is the Passive Sequencing work which he has developed, cultivating ease and presence in motion, soft power through movement intelligence, and the pleasure of finer moment-to-moment awareness of self and partner in motion. He has a BA in Physics, an MFA in Dramatic Arts, and a PhD in Ecology. Currently, he has a position at the Max Planck Institute for Evolutionary Anthropology, Department of Human Behavior, Ecology, and Culture in Leipzig, Germany.
During the corona lockdown, Karl is producing a series of CI classes on Sundays with instructors from around the world.
Curiosities
Going back to the origin of Contact Improvisation, we start over again asking anew "What is interesting with physical contact and interaction? What is possible? What is there to explore?" We look at different senses, dynamics, processes, and chosen limitations in physical contact to articulate what we find and explore. This articulation allows us to have a more expansive and more specific curiosity in exploring movement with a partner.